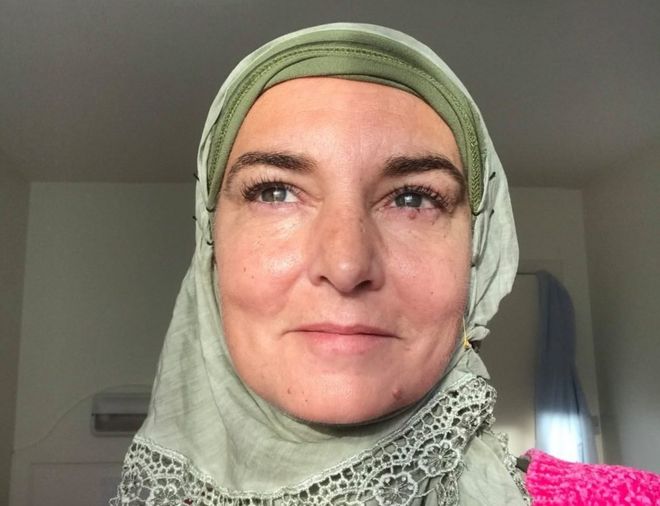 On Tuesday former Catholic Sinead O' Connor announced her new name – Shuhada' Davitt – and her conversion to Islam. The Twittersphere is buzzing with congratulations (from Muslims) and scorn (from everyone else.) But enough already with the scorn: she's a public figure with a huge talent and a troubled mind (so often two sides of the same coin.) We should lament anyone abandoning their Christian faith, but more importantly ask what the pastoral issues are that need addressing? What does church need to learn from this?
Not converted in the first place
In 2007 Sinead called herself a Christian, and that she believed in the Trinity. But her other remarks were more revealing:
"I think God saves everybody whether they want to be saved or not. So when we die, we're all going home… I don't think God judges anybody. He loves everybody equally."[91]
The god she believed in was the same one lots of Christians say they believe in – the non-judgemental, all-saving god. This god may be an easier sell in today's culture, but it's not the God of the Bible.
For God so loved the world that he gave his one and only Son, that whoever believes in him shall not perish but have eternal life. 17 For God did not send his Son into the world to condemn the world, but to save the world through him. 18 Whoever believes in him is not condemned, but whoever does not believe stands condemned already because they have not believed in the name of God's one and only Son. 1 John 3:16-17
The God of the Bible loves everyone equally in that He doesn't want anyone to perish but all to come to repentance (2 Peter 3:9); but He also teaches that those who don't will be eternally lost (2 Thess 1:8-9.)
A disciple of Jesus has made a a conscious decision to leave their old life behind and follow him. They take Him at his word when He says no-one will see the Kingdom of God unless they are 'born again' (John 3:3, 2 Cor 5:17); they know that without Jesus they are as good as dead (Eph 2:1), that only through his broken body given for them on the Cross can they receive forgiveness and eternal life (John 6:53). They know that they can never earn his love, but receive it as a free gift of grace accessed by repentance and faith (Mark 1:15, Romans 10:10.) And they confess,with Peter,that there is 'no-other Name under heaven given to mankind by which we must be saved.'
You can go to church every Sunday your whole life and still not get this. Do we get it? Does the person next to us? Do we love them enough to explain it to them? Are we teaching it?
2. Lack of discipleship
Our decision to follow Christ is just the beginning. We're called to "continue to work out [our ]salvation with fear and trembling."(Phillipians 2:12) Will we meet with other believers to study the Bible, not giving up when we find it difficult or our church family annoying? Are we submitted to the authority of Scripture (2 Timothy 3:16)? Are we committed to obeying Jesus commands (John 14:15) ? Are we witnessing to others (Matt 28:19)? Are we realistic with ourselves and with others about the cost of following Jesus (Luke 14:25-33)? Are we ready to be unpopular for Him, let alone suffer and die for Him (1 Thess 3:4)? And when we fail at all the above – which we will – do we have loving, accountable friendships with other believers, who will encourage us to keep going?
3. Neglected core doctrines
Sinead O'Connor once said:
"The Christ character tells us himself: you must only talk directly to the Father; you don't need intermediaries.."
Actually, Jesus didn't say that. He said "And I will do whatever you ask in my name, so that the Father may be glorified in the Son. 14 You may ask me for anything in my name, and I will do it." (John 14:13-14.) We pray to the Father in the Name of Jesus, whose blood has given us access to him. And it's not idolatrous, because Jesus is God in the flesh. If our Christian friends refer approvingly to a 'lack of intermediaries' in this way, alarm bells should ring.
But if someone asked you to defend the divinity of Christ or the Trinity, how would you answer? When was the last time you heard a sermon on the Trinity? You might have heard some faithful, trinitarian exegesis on John 1, but how will that help you when a Jehovah's Witness tries to persuade you that the Word, Jesus, isn't YHWH himself but rather his exalted firstborn creation? Or when a Muslim tells you Jesus is no more than a Prophet?
There is a huge gulf between what Christians say they believe and what they actually understand. A recent study of stated that 78% of US evangelicals agree with the statement "Jesus is the first and greatest being created by God." These are people who are hearing the Bible preached week in, week out. What has gone wrong?
Even in the mainstream evangelical church, we are in danger of preaching Jesus-lite: Jesus our Friend (mainly our friend) and Saviour, the One we know is God but we don't know how or care to understand why this matters. And without taking the time to look into these things seriously, we are vulnerable to our faith being undermined by those with years of training on how to undermine it. And preaching, it seems, is not enough to equip us.
4. Disappointment with the church
Sinead O'Connor had a love/hate relationship with Catholicism. She famously tore up a photo of the Pope in 1992 in protest against the child abuse scandals, and later got ordained as a priest by an off-shoot of the Catholic Church. Her anger against the sex scandals never subsided – and why should it have? The Vatican still faces allegations of cover-up and dragging its feet over prosecuting the perpetrators . The Evangelical church has its own horrific incidents of abuse to face up to. It continues to be a grievous stain on the church and her witness.
But does anything in Christian Scripture condone such practices? Does Jesus? Because Christians don't look to other Christians for advice about life, but by the only perfect man who ever lived and His inspired Word. Christians – all of us – will continually disappoint others with our weakness and laziness and hypocrisy. That's why we don't preach ourselves, but Christ crucified. And Islam has far more difficult issues with sexual abuse – read another post of ours on grooming gangs and how they are influenced by Islamic teachings here.
5. Failure to read the small print
Sinead said her conversion was "the natural conclusion of any intelligent theologian's journey." But an intelligent theologian looks before they leap, don't they? If she had looked, she'd have noticed Allah's punishment for leaving Islam is death (Sura 4:89), that Muhammad had sex with a 9 year old child (Sahih Al-Bukhari, Volume 5, Book 58, Number 236) that Muhammad ordered his enemies' eyes to be branded and then made them die of thirst (Sahih al-Bukhari, Volume 4, Book 52, Number 261), that spreading Islam through violent jihad is commanded by Allah (Sura 9:29), that non-Muslims should pay a humiliation tax simply because of their disbelief (Sura 9:29), that music, her livelihood, is haram (Sahih Bukhari 7:69:494), and that if she so much as draws a picture of Muhammad, let alone rips it up, she is taking her life in her hands. But who around her could and should have told her all this? Answer: the church. Because Jesus loves her and died for her to know the truth.
Is this all just a publicity stunt? Is it a fad? Does it come from a place of desperation for acceptance and belonging? Where was the church when she was thinking this through? Sinead/Shuhada' seems pretty determined to forge her own path in life. But we shouldn't have made it easy for her.
To support the work of DCCI https://paypal.me/dcciministries0717
Find us on YouTube and Facebook.